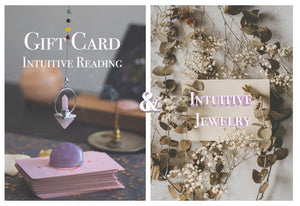 Intuitive Reading + Jewelry Combined
This gift card is a package price of SEK 2,500 which includes both an Intuitive reading (60 min) worth SEK 1500 and a personally designed piece of jewelry (The simple one) worth SEK 1200.
With the help of my intuition and inner images, I am able to create a personal talisman that will strengthen your inherent power.

During an Intuitive reading, I use my high sensitivity to locate your inner strengths / abilities. Together we will go through what limits you and how you can strengthen your innate gifts.
To start off I will lead us both through a meditation so we can ground and connect beyond external conventions.
If you wish, I can use my tarot cards that help to illuminate certain areas. I receive information through my emotions, images and colors. I share everything that comes trough in a safe, healing and strengthening way. The meeting can take place on site at my studio in Årsta / Stockholm or remotely via Zoom or Messenger.
These meetings can have a transforming effect and everyone who has been with me reports that they feel seen, inspired and strengthened.
The second phase is that I develop a personal piece of jewelry / talisman that strengthens exactly the qualities we want to strengthen. I use the symbols, crystals, colors and shapes that I get during your reading. This package price includes a simpler piece of jewelry "The simple one" (you can find detailed descriptions on my website, link below) in silver and often crystals that strengthens the chakras for you. If you wish to purchase a more advanced piece of jewelry, you can of course add the price difference.
For more information, see: https://tittib.com/intuitive-jewelry-maker

Svenska:
Detta presentkort är ett paketpris på 2500 kr där det ingår både en Intuitive reading (60 min) värde 1500kr och ett personligt utformat smycke (The simple one) värde 1200kr. Med hjälp av min intuition och inre bilder tar jag fram ett unikt smycke som stärker din inneboende kraft.
Intuitive reading innebär att jag använder mig av min högkänsliga och mediala förmåga att lokalisera dina inre styrkor/förmågor. Vi går igenom vad som begränsar dig och hur du kan stärka dina medfödda gåvor. Jag leder oss båda genom en trygg meditation där vi kan samtala bortom yttre konventioner. Vill du så använder jag mina tarotkort som hjälper till att belysa vissa områden. Jag får till mig information via mina känslor, bilder och färger. Allt jag får till mig delar jag med dig på ett tryggt, läkande och stärkande sätt. Mötet kan ske på plats i min ateljé i Årsta/Stockholm eller på distans via Zoom eller Messenger.
Dessa möten kan ha en transformerande effekt och alla som varit hos mig rapporterar att de känns sig sedda, inspirerade och stärkta.
Den andra fasen är att jag tar fram ett personligt smycke/talisman som stärker just de egenskaper vi vill stärka. Jag använder mig av de symboler, kristaller, färger och former som jag får till mig under din reading. Just till detta paketpris igår ett enklare smycke (The simple one) i silver och ofta kristaller som stärker de chakran för dig. Vill du ha ett mer avancerat smycke går det givetvis att lägga till mellanskillnaden.
För mer information kan du se: https://tittib.com/intuitive-jewelry-maker