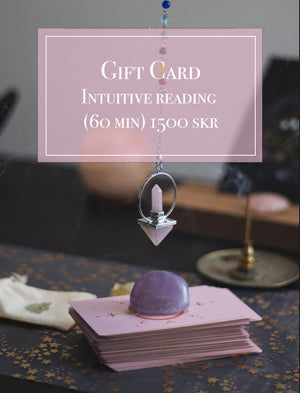 Gift Card Intuitive Reading
This gift card includes a Intuitive reading (60 min) worth SEK 1500 (that can be used as a starting point of personal talisman.) 
With the help of my intuition and inner images, I am able to create a personal talisman that will strengthen your inherent power.
During an Intuitive reading, I use my high sensitivity to locate your inner strengths / abilities. Together we will go through what limits you and how you can strengthen your innate gifts.
To start off I will lead us both through a meditation so we can ground and connect beyond external conventions.
If you wish, I can use my tarot cards that help to illuminate certain areas. I receive information through my emotions, images and colors. I share everything that comes trough in a safe, healing and strengthening way. The meeting can take place on site at my studio in Årsta / Stockholm or remotely via Zoom or Messenger.
These meetings can have a transforming effect and everyone who has been with me reports that they feel seen, inspired and strengthened.

Fore detailed information:
https://tittib.com/intuitive-jewelry-maker
In Swedish:
Presentkortet gäller som betalning av en intuitive reading hos Titti Bjernér på 1 timme. Tiden bokas direkt via mail på tittib@gmail.com
Detta tillfälle ligger till grund för ett personligt smycke som kan beställas och köpas separat. Kortet är giltigt i 2 år från inköpsdatum och kan inte växlas in mot kontanter. 
Intuitive reading innebär att jag använder mig av min högkänsliga och mediala förmåga att lokalisera dina inre styrkor/förmågor. Vi går igenom vad som begränsar dig och hur du kan stärka dina medfödda gåvor. Jag leder oss båda genom en trygg meditation där vi kan samtala bortom yttre konventioner. Ibland använder jag mina tarotkort som hjälpmedel om det känns rätt. Jag får till mig information främst via mina känslor men bilder och färger kan också uppkomma. Allt jag får till mig delar jag med dig på ett tryggt, läkande och stärkande sätt.
Dessa möten kan ha en transformerande effekt och alla som varit hos mig rapporterar att de känns sig sedda, inspirerade och stärkta.
För mer info: https://tittib.com/intuitive-jewelry-maker