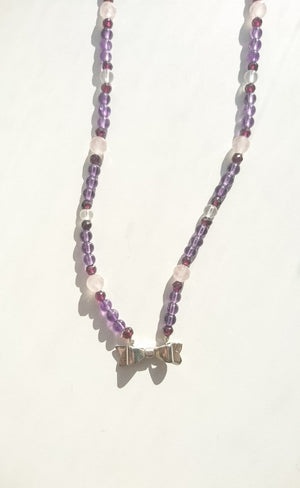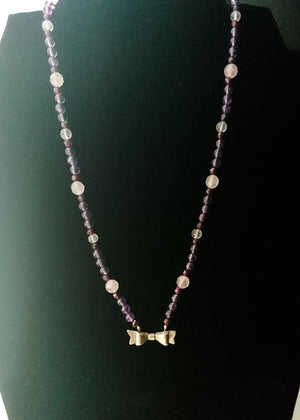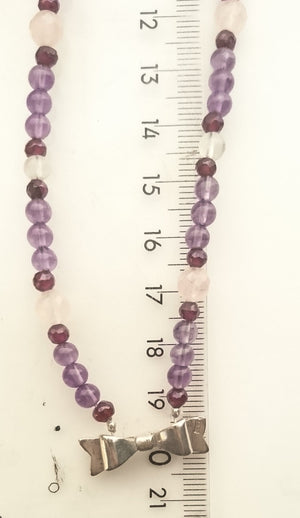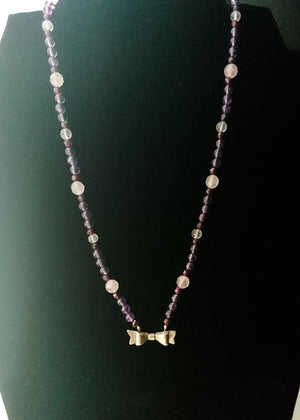 Calm
This necklace is made with purple amethyst and pink rose quarts beads. A sweet silver ribbon decorates this lovely neckpiece.
 Amethyst is a meditative and calming stone which works in the emotional, spiritual, and physical planes to promote calm, balance, and peace. It is also used to eliminate impatience. Amethyst is especially supportive of the emotional body, bringing those who are overworked, overstressed, or overwhelmed back to center. It has healing powers to help with physical ailments and emotional issues. Amethyst resonates with the crown chakra.

Rose quartz is often called the "Love Stone" and is a stone for unconditional love including one-self.  Bringing love in to life and daily situations not only brings inner warmth, but it also lowers stress and soothes those around it. Rose quartz is used to raise self-esteem and a strong sense of self-worth. Its loving energies teach us to apply this love to ourselves and thereby find ourselves more worthy. Rose quartz is a very happy and loving stone.